Book your Cruise Parking Online
CPS Ports
Where is ?
Liverpool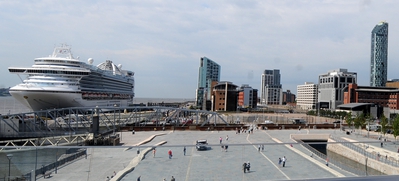 Few cities in the world have arrival points in the heart of the city; Sydney, New York, Venice and now Liverpool.
Liverpool Cruise Terminal is fast earning a reputation as one of the most desirable cruise destinations in Europe.
Since opening in 2007, more than 126 cruise ships have called into Liverpool bringing over 250,000 passengers and crew.
For up to date information visit vist www.cruise-liverpool.com
Airport (Liverpool John Lennon Airport) 15km from the terminal
Airport (Manchester International) 62km from the terminal
Train Station (Lime Street) 2km from the terminal
City Centre 0.5km from the terminal
Positions-Latitude North 53 Y 24' 00′
Positions-Longitude West 2 Y 59' 52′
Berths 1
Minimum Length No minimum length
Maximum Length 350 metres
Width No restrictions
Draught No restrictions
Passenger Terminal Yes
Pilotage Compulsory Yes
Tugs Available Yes
Tidal Movement / Range 10 metres
Bunkering Yes
Waste Disposal Yes
Water Yes
Provisions Yes
Port Hours No restrictions
Shore Excursions An excellent selection of cultural and diverse experiences available
Making your booking is easy